Puerta Azul
Show Homes for Sale in Puerta Azul
Puerta Azul, home to 127 resort homes, is located in La Quinta, California, an area just outside Palm Springs. Rembold Companies has invested in the area and has advised the developers with getting the community prepared to be as amazing and vibrant as it can be. This exciting and vibrant region has some attractive houses and plenty of community features that will truly stand out from other spaces that are all around the region.
Homes At Puerta Azul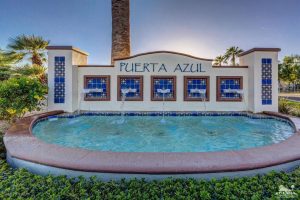 The homes that you can find here at Puerta Azul are among the finest in the town. Specifically, the resort has four different home models for you to choose from starting at $300,000.
These houses have two to three bedrooms on average, just as many bathrooms, and at least 1,500 square feet. Many of these homes come with their own pools and are often located near some attractive and clean bodies of water that have been built all around the land. They are large enough for families and also designed to be a good resort or vacation homes for those who are interested in golfing around the region or just taking it easy for a change.
These well-maintained homes are designed to be both spacious and modern so you can easily relax and enjoy life. They are filled with not only plenty of calm and enjoyable spaces for living in the inside but also a number of appealing outdoor spots, like porches and patios.
These homes are located around the Avenue 54 and Madison area of La Quinta. The homes are tastefully designed with Spanish Villa influences with more than enough cobblestone courtyards to make the lands more attractive.
Amenities To Choose From At Puerta Azul
You will find plenty of different amenities to enjoy no matter the reason you are hold for looking for a home at Puerta Azul. These great spaces include the following popular choices:
• A fitness room is available for all those looking to stay in shape.
• There are two full-size swimming pools for all in the community to enjoy.
• Concierge services are available for everyone's convenience.
• The bocci ball and tennis courts around the space include plenty of fun recreational areas for seasoned recreational players and newcomers to these activities alike.
• There are many golf courses around the area as well. You can go to the PGA West or La Quinta Silver Rock Resort to enjoy some of the finest courses around. The Trilogy Club is also located not too far off from the region.
These are features that are available to community members who come out to the area. These will give you the most out of your living experience while you are out in this part of the region.
Nearby Features At Puerta Azul
As great as the features at Puerta Azul are, there are plenty of additional features around the region that are just as enticing to potential homeowners:
• Puerta Azul is located not too far from Old Town La Quinta, an area that is home to many of the finest dining and shopping centers in the region.
• The resort is also near Palm Desert, one of the most high-end shopping destinations in the desert area.
• The La Quinta Resort and Club and the Spa La Quinta are both not too far off. These places have been known for offering some luxurious and fine spa treatments that everyone in the area can enjoy taking part in.
• This all takes place around a beautiful, calm and mountainous region of California that is unlike anything else in the world.
Whether you are hoping to find a property for yourself or you want to enjoy a good place for a vacation rental, you can rest assured that the Puerta Azul community has some amazing features that will bring out the best possible experience in the region.
Want To See Home In Puerta Azul
If you are interested in seeing any of the homes that are for sale in Puerta Azul, contact Elaine Stewart. With over 25 years of experience in the Real Estate industry, Elaine truly enjoys helping people in the process of buying or selling a home.
You may also be interested in these La Quinta communities:
Elaine Stewart – Remax Real Estate
(760) 668-2399 Mobile
(760) 391-4415 Office
DesertRealEstate1(at)yahoo(dotted)com

Sorry we are experiencing system issues. Please try again.